Help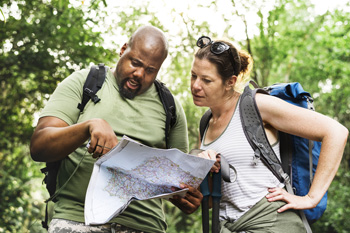 Use Parks Seeker to track your progress as you visit the national parks, forests, and more of the United States. Visit the Check In tab to "check in," add a photo, and share your visit to each park.
If you don't find an answer below, please click the Email link at the bottom of the page to send us your questions, comments, or suggestions.
Contents
Frequently Asked Questions
Do I need a cell phone signal to use the app?
No! Parks Seeker uses your device's GPS signal to locate you when checking in to a park, which does not require a cellular connection; however, a cell signal can help locate your device faster.
Parks Seeker already includes information and pictures for each park. Periodically, if you are connected to the internet when you visit an individual park's page, Parks Seeker will attempt to update this data from Wikipedia. You can change the frequency of this update under "Wiki Cache" on the Settings page (under the More tab).
To purchase a category of points (e.g. National Lakeshores and Seashores), you do need an internet connection to complete the purchase and for a one-time download of the park data.
Finally, a data connection is obviously needed if you want to share your check-ins with others via e-mail, text message, Facebook, or Twitter.
I've reached a park. How do I check in?
If you are currently at a National Park, use Parks Seeker to verify your position and record a check-in. Go to the Check In tab, and when you have a good GPS signal, click the Check In button in the center.
How do I record previous parks I have been to?
When you visit the Check In tab, it only shows you the closest park to your current location. If you want to check in to a different park that you have already visited, please go to the Parks tab, tap the appropriate park, then find the button near the top that says, "Already Visited? Tap Here To Record Check-In."
Note: GPS positions are not recorded for "previous" check-ins. Instead, the coordinates of the actual park will be used.
How do I view my past check-ins?
To view your past check-ins, go to the Manage tab. Check-ins can be sorted by date or name. Tap an individual check-in to view details, edit the date (for non-GPS check-ins only), add or modify a photo, and share it with your friends.
How do I delete a check-in?
From the Manage tab, you can swipe to delete an individual check-in, or tap the Edit button to select multiple check-ins to delete at once.
How do I edit the date of a previous visit?
To edit the date of a previous, non-GPS check-in, you must first be viewing the individual check-in's details. You can access the check-in by tapping the appropriate item from the Manage tab. Then, tap the displayed date, which will open a "Select Date" screen. Select the date you visited the point, then tap Accept.
Note: You cannot edit the date and time for GPS-verified check-ins.
How do I get rid of ads?
To get rid of ads, simply purchase a park bundle. After any purchase, ads will be gone forever!
How do I get more parks?
Parks Seeker already includes all National Parks, but our support goes beyond just parks and the National Parks System! To see other available categories such as National Battlefields or National Lakeshores and Seashores, visit the Categories page.
How do I switch between park categories?
To switch between categories (e.g. switching from National Parks to National Battlefields), you can visit the Home page, then tap on any already purchased and downloaded category. Additionally, most pages include a hamburger menu (☰) in the upper-left, which can be tapped to show a menu of the categories.
How do I sync check-ins and photos between devices?
If you checked in to a location on your iPhone, for example, but then want to see that check-in on your iPad or Android device, you can use the Dropbox sync feature. Dropbox sync allows you to manage your check-ins and photos across any device that you connect. Be Careful: Any changes you make—adding a new check-in, modifying the date of a custom check-in, deleting a check-in, and adding or deleting a photo—will be synced to Dropbox, and then to any other devices when you sync those.
To start syncing, first go to the Settings page (under the More tab), then select the "Connect to Dropbox" button. Once logged in, you will see a "Sync check-ins" button. Tap this anytime you want to upload changes from your device to Dropbox and download changes you've made on other devices synced to Dropbox. Currently, changes are not automatically synced to Dropbox; you must tap "Sync check-ins" any time you want to sync.
If you have any problems syncing that you cannot figure out, please try disconnecting from Dropbox and then re-connecting. This will not delete any of your check-in or photo data.
Note: Dropbox sync is only available starting in version 1.2. If you have synced to Dropbox after v2.0, due to a change in data format to support In-App Purchase categories, you will no longer be able to sync with previous versions of Parks Seeker.
How can I submit feedback or suggestions?
We're constantly looking for ways to improve Parks Seeker. If you find a bug, have a question, or dream up an amazing idea for a new feature, please let us know:
If you really like Parks Seeker, please leave us a positive review on iTunes or Google Play, and be sure to let your friends know about the app!
Common Problems
GPS
GPS not working? Try the steps below:
iOS devices (iPhones and iPads):

Go to the Settings app, click Privacy, then Location Services, and confirm that Parks Seeker is turned on.
Photos
Unable to add a photo to a check-in? Try the steps below:
iOS devices (iPhones and iPads):

Go to the Settings app, click Privacy, then Photos, and confirm that Parks Seeker is turned on.
Twitter
When sharing a check in on Twitter, if you get an error saying, "The tweet <message> cannot be sent because the connection to twitter failed," please go to the Settings app, select Twitter, then the username you tried to post as. Make sure you have entered a valid password, or sign out and sign back in again to fix the issue.
Dropbox
For all Dropbox problems, please check your network connection first. Make sure you have a working cellular of Wi-Fi connection.
Many Dropbox problems can be fixed simply be re-authenticating with Dropbox (i.e. logging out and logging back in). To do so, go to the Settings page (under the More tab), and find the "Disconnect from Dropbox" button. Tap it, then tap "Connect to Dropbox" when that button appears. If it immediately logs you back in to the old account, you may need to disconnect from Dropbox, then press "Connect to Dropbox" again.
Finally, some problems lie solely on the Dropbox side. If you see an error number in the 500s, this is likely a Dropbox server error. Unfortunately, you just have to wait and try again later.
If you somehow end up with bad data on Dropbox (e.g. a check-in or photo was deleted), that is typically recoverable within a short period of time. Unfortunately, there is no way to restore lost data locally if there is not already a version on Dropbox with the data you want.
Reverting Check-In Changes
Log into dropbox.com.
While viewing your files on the Dropbox website, navigate to the Apps/Parks Seeker directory.
Select the checkins.txt file and click "More," then "Previous versions."
Find the date of the file that you would like to revert to.
At this point, you should be able to re-sync with Dropbox within the Parks Seeker app. If you still have trouble after this, restore the file again on Dropbox, but before re-syncing via the app, try uninstalling and re-installing the Parks Seeker app, then re-connecting to Dropbox so that you start with clean settings.

Note: Please make sure you have your photos saved on Dropbox or somewhere other than the Parks Seeker app before uninstalling!
Restoring Deleted Photos
Photos deleted from Dropbox can typically be restored within 30 days for free users or longer for paid users. To restore a photo:
Log into dropbox.com.
Click the "Deleted Files" link.
Find the file(s) in the Apps/Parks Seeker/Photos directory that you want to restore (they should be named something like 1234567890_1.jpg) and click the "Restore" or "Restore all files" button.
In-App Purchases
Missing Already Purchased Package
If you are missing a package on your device that you previously purchased, go to the Categories page and click the "Restore" button in the upper-right. Please note that purchases are tied to your Apple/Google ID and not a specific device, so if you own multiple devices or get a new device and have already completed a purchase on one device, you can click restore on the other device to re-download any purchases.
Still Have Questions?
If you are experiencing a problem on your device that was not answered above, please go to the Settings page (under the More tab) in the app and click the "Email Support" link. Use this email to describe your problem in detail and to provide us with some basic information about your device to assist with debugging.
---
Copyright © 2018 CGX Design by Mark Sandell. All rights reserved.

Apple, the Apple logo, iPhone, iPad, and iPod touch are trademarks of Apple Inc., registered in the U.S. and other countries and regions. App Store is a service mark of Apple Inc.
Android, Google Play, and the Google Play logo are trademarks of Google LLC.